Private label and OEM production
We offer private label and OEM production with the original GRASSY™ unit or customized designs to our larger key accounts. We can accommodate wide ranges of customizations, for example color, branding, shape, etc.
Large amounts of development hours have been used on our products which gives our customers well-tested and robust quality equipment that can last for years in a difficult environment. Our products are intuitive, and it is important for us that they can be installed by both technicians and common people. Feel free to request a product sheet at info@grassy.dk.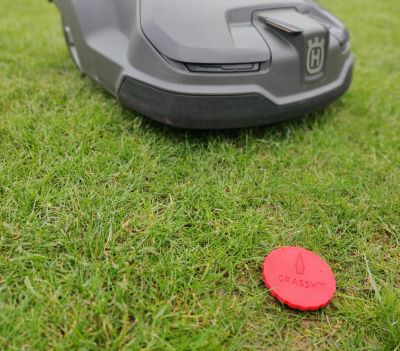 We estimate that 50% of all owners of robotic lawn mowers have at least one area that needs to be selected or deselected occasionally. We have developed an innovative solution for this. But still only a minority knows that there is a readymade solution on the market. Our goal is that every robot mower owner will be presented to our solution to the problem. We are in an expanding market with double-digit growth each year and we cannot reach all robot mower owners by ourselves. Thus, the way we expect to reach all potential customers is through partnerships and OEM production.
We are offering safe products and deliveries and our customers can benefit from:
Legally compliant and controlled sourcing with respect for the environment and labor rights and conditions. E.g., we keep sourcing locally to minimize transport and all components are RoHS-compliant (Meaning free of hazardous substances and pollutants).
Scalable production setup with precise deliveries.
Original quality products with intellectual property rights in place.
Product Liability Insurance with high limit amounts.
Well-managed business partner with good governance which respects and contributes to the community.
We are a small company, but we have lots of experience working in and with global corporations. We know how to support cooperate procedures and deliver the required level of documentation. When working with us you can expect:
Accurate deliveries
Well-documented products
High degree of quality control
Fair prices
Long-term collaboration
Reliant supplier with an honest and constructive approach
Learn more about your opportunities. Please contact us at info@grassy.dk or call us at +45 44 11 52 52.